Leadership Group and Standards Committee Meeting 14.10.21
By Stuart Mansell, OWN Trust CEO
On Thursday 14th October 2021, the OWN Trust Chief Executive Officer, school headteachers and deputy headteachers met for the Leadership Group and Standards Committee Meeting. It was the turn of Orton Wistow Primary School to host the meeting.
The Leadership Group and Standards Committee Meetings take place with a different focus each time. The meeting always covers information sharing between the Trust and the schools, but this meeting had a focus on the Trust's 5 -year strategic plan (the long-term goals for the Trust and its stakeholders; especially children) and the development of the annual Trust Improvement Plan (short term goals for improving outcomes for children and how best to support them).
In particular, the Leadership group: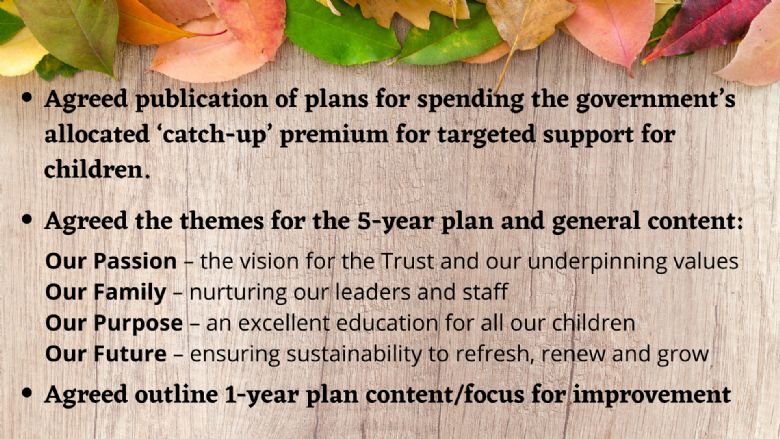 The next steps for the Leadership Group are to finalise and publish the 5-year strategy and complete the 1-year improvement plan and progress implementation.
The next meeting on 25th November 2021 will take place at Nene Valley Primary School and focus on the quality assurance cycle for evaluating school performance.