OWN Partnership (Schools Partnership Programme) Advanced Training for Improvement Champions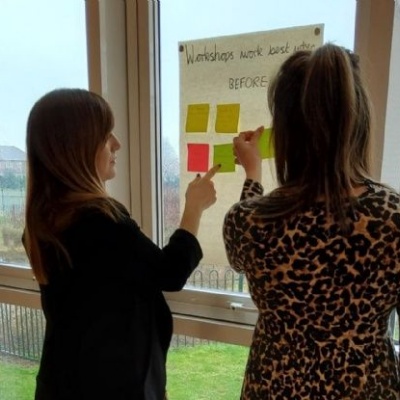 By Stuart Mansell, CEO, OWN Trust
On Tuesday 22.02.2022 ('Twosday'), Improvement Champions from all nine partnership schools and the Partnership Lead (OWN Trust CEO Stuart Mansell) took part in a full day of training. The OWN Trust hosted the event at Woodston Primary School. In the afternoon, headteachers from each of the schools joined in the collaborative development.
The event provided an update on progress by Improvement Champions' Successes and areas for development in delivering workshops to school staff following their peer review.
Several school reviews have taken place, with their focus ranging from 'extending provision for able writers' to 'developing independent enquiry skills'.
During the reviews process, each school identifies a focus for the review, which is undertaken by an independent review team from within the partnership.
Approximately two weeks after the review, a workshop is delivered at the school by an Improvement Champion from elsewhere in the partnership. They then facilitate an action plan from the school to make improvements in the area of focus.
The partnership is currently halfway through the schedule for reviews and workshops and is developing a central repository for resources and workshop guidance that all schools in the partnership can access.
The Improvement Champions have set up their own WhatsApp group to keep in touch and share ideas and resources. There were lots of positive comments about the event including:
"Sounds like everyone is now a pro at planning a workshop!"

"Found it really useful hearing about your experiences".
Thank you to everyone who attended and took part.