OWN Trust Christmas Celebrations 2022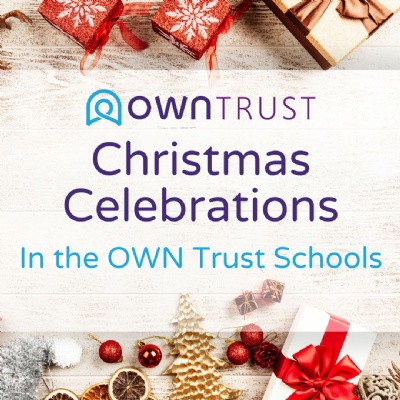 Discover how Woodston, Nene Valley and Orton Wistow Primary school have been celebrating Christmas this year.
Woodston Primary School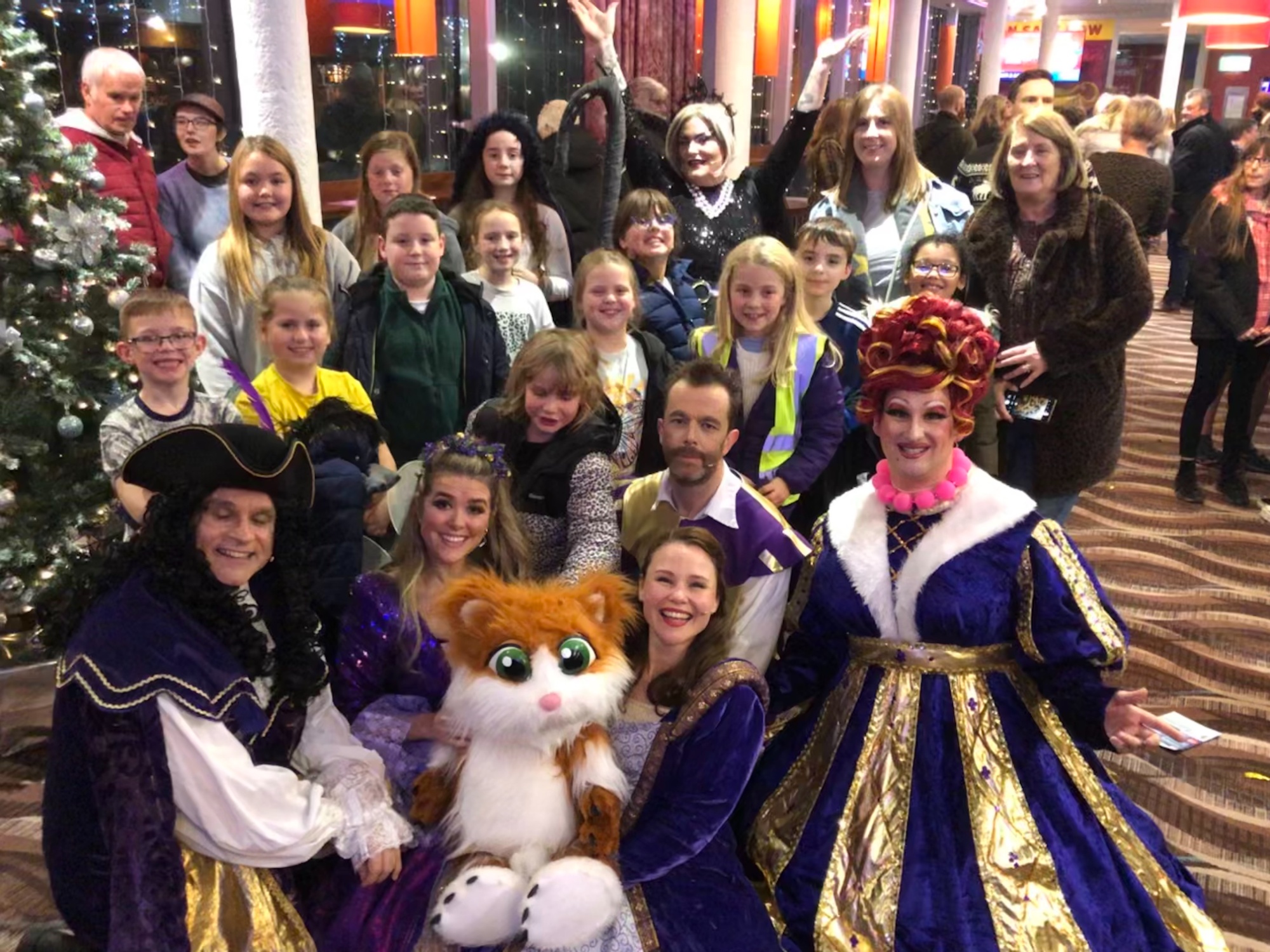 This year Woodston hosted its tasty Christmas dinner days for all children and staff at school. Children ate delicious roast turkey or Quorn fillets, yummy pigs in blankets, roast potatoes and vegetables, followed by a Christmas ginger biscuit or mince pie. Children enjoyed their meal listening to Christmas music and wearing their Christmas jumpers!!
The school also supported the National Christmas Jumper Day and instead of asking for a monetary donation, we asked for packets of food and tinned goods to take to the Foodbank. Mrs Mitchell took all the food the same day, and they were very grateful at the Trussell Food Bank for the 124kg we collected.
Reception and Year 1 have been busy practising their nativities. The children loved being on stage performing for their parents. There were songs, dances and lots of Christmas outfits! Year 2 hosted a Christingle after school in the last week of term and have thoroughly enjoyed learning about the meanings of Christingle.
Woodston Primary School has been decorated with sparkly tinsel and colourful flashing lights. The main attraction is the huge 12' Christmas tree in the Main Hall – a truly spectacular sight! Our school has 30 Christmas trees up and decorated around school!
We were also lucky enough to win a Christmas Tree from Dobbies in a competition, and we were one of the four schools that won locally. Ali Carroll, the Woodston EYFS and Year 1 Lead, went to collect it. It was a real Norway Spruce.
In addition to the celebrations in school, Woodston also organised a Young Carers' Trip to see the Dick Whittington pantomime at The Key Theatre on Tuesday 29th November.
This trip was arranged by Steph Gilder & Michelle Duffy, who are the Young Carers' Champions at Woodston Primary. Young Carers can experience limitations due to the impact of their caring roles at home. The staff contacted various organisations to provide easier access to opportunities and treats. We were very fortunate that Louise Waldron at the Key Theatre donated 20 free tickets for the 'Gala Evening' performance.
The children were absolutely blown away by this treat. They were also given a free drink and had their photo taken at the end of the performance with all the cast.
Amelia commented that: "It was really fun seeing my friends there, and my favourite part was when they named the cat Ploppy!"
Esmay, who also attended the pantomime, said that: "My favourite part was when the fairy came out, and I was so happy that night".
Ms. Duffy who accompanied the children, said that: "The children were amazing and had so much fun, they all joined in with the singing and dancing, and loved having their photograph taken with the cast afterwards!". Miss Gilder also added: "I am very proud of how well our Young Carers represented Woodston Primary School. Many of the children had never been to a pantomime before, it was a really special experience, and it was wonderful to see them so involved – we definitely booed the loudest!!"
Nene Valley Primary School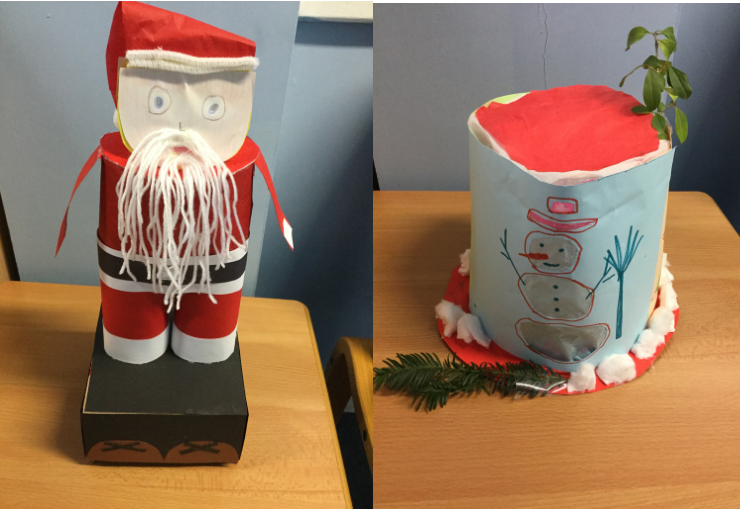 Snow nearly gave the children at Nene Valley Primary School a white Christmas, but there wasn't really enough to make a snowman! All the children in Reception to Year 2 have been busy performing on stage. There have been two nativities, which have been enjoyed by parents and carers from Monday 12th December through to Wednesday 15th.
The lovely kitchen ladies produced a tasty hot Christmas meal with some crunchy vegetables for the children last week. Staff joined their classes with crackers, hats and jokes adding to the fantastic atmosphere. 274 meals were prepared, cooked and eaten and even those who still chose sandwiches got a cracker and a drink.
The Christmas tree in the library has books around it, so again this year children have enjoyed a story in our winter wonderland forest. Some children (with parental help) have entered our design and make a Christmas hat/ crown. Finally, on the last day of term the staff performed a pantomime for the children – Oh no they won't (oh yes they will!).
Orton Wistow Primary School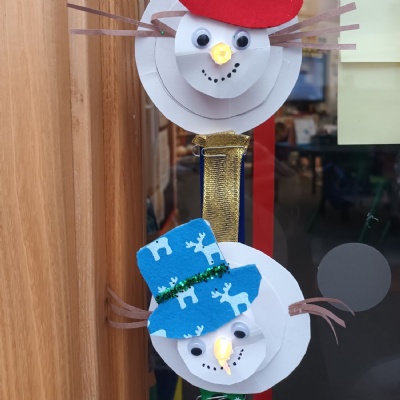 Christmas at Orton Wistow Primary School began on the 1st of December with Christmas decorations transforming the school for the festive season. Each class has made ornaments to decorate their classrooms, including: sourdough Christmas trees in Foundation Stage, lollipop trees in Year 2, log reindeers in Year 3 and snowmen with light-up noses in Year 6.
On 30th November, Reverend Alexandra visited to announce the winner of the Christmas Card Competition. Congratulations to the winning entry, which came from a Giraffe class member. If you live in Wistow, Alwalton, Southgate or Northgate, look out for the cards dropping through your doors very soon!
Children in Foundation Stage and Year 2 worked hard to prepare Christmas performances that were enjoyed by the whole school, and parents and carers. On 1st December, the Magpies and Penguins performed a nativity to a hall full of Foundation Stage family members. They read their words confidently, sang loudly and put a smile on everyone's face.
On 7th December, Year 2 put on a play called "Don't Be afraid!" in both an afternoon and evening performance. They did an amazing job learning their lines and all the songs. They all spoke clearly and sang with enthusiasm and enjoyment.
Other Christmas events have included the annual Friends of Orton Wistow Christmas Fayre, the FOWS Children's Christmas Sale (an opportunity for the children to buy gifts for their friends and family) and the special Christmas Dinner for staff and children, which took place on Wednesday 14th December.
The school has also been made festive by our housekeeper Mrs Wilson's christmassy trolley. As well as lights, tinsel and decorations, Mrs Wilson has been counting down the sleeps to Christmas!