OWN Trust Training Day 02.09.22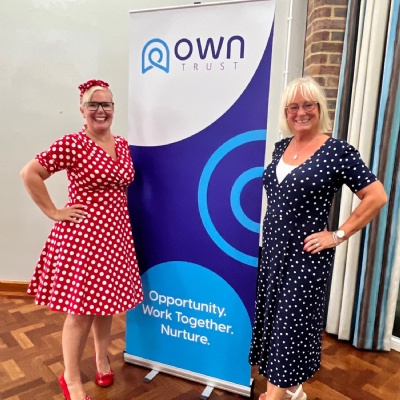 By Stuart Mansell, CEO, OWN Trust
On 2nd September 2022, the OWN Trust CEO, Stuart Mansell, together with headteachers Colin Marks (Orton Wistow Primary School), Jacki Mitchell (Woodston Primary School), and Neil Reilly (Nene Valley Primary School), and teachers from all three Trust schools met at Woodston for an inspiring training day.

This was an opportunity to bring together as many staff members from across the Trust as logistically possible, starting with teachers. The morning session aimed to share information about our identity and future plans and to develop our Trust community. The afternoon session was motivational; inspiring our teaching staff to be the best that they can be and ultimately 'happy educators' for the benefit of all the children. Elements of the day were then cascaded to schools to begin sharing with other staff.

The first part of the morning began by looking at the development of our new branding, including what our new logo represents. We looked at how the three letters of OWN (Opportunity, Work Together, Nurture) formed an image representing a sheltered (nurtured) child or adult.

We then had a presentation about how we are trying to create links across the Trust that develop a sense of community, both formally and informally.

We also looked at how we have developed ways of communicating what we do and why we do it through news items on the website, our half-termly newsletter, and blogs.

The second part of the morning was a longer session, where everyone was involved in a cafeteria-style activity to look at plans for the future within our newly published 5-year strategy. This was followed by a short session on how our improvement plans will help us to work towards the vision for the next five years.

Finally, in the afternoon, Shonette Bason Wood (Teacher Training - Spread the happiness), a renowned motivational speaker in education, led her fantastic session 'Permission to be a Happy Educator'. Shonette reinvigorated all of those present to be the best teacher that they can be whilst ensuring a focus on the well-being of everyone so that we have a positive impact on the children. This was much needed after the period of challenge provided by the COVID pandemic.

Neil Reilly, the new Headteacher of Nene Valley Primary School, commented: 'An inspiring day bringing together our passionate colleagues to discuss the vision, strategy and development of OWN Trust'.
The work on branding and the 5-year strategy was then launched in each school the following week, with the provision of cupcakes for everyone alongside the strategy document, each topped with OWN Trust's new logo! The Trust would like to thank the catering teams in each of the schools for organising the delicious cupcakes, particularly Tina Edwards (Catering Managers, WPS), Elizabeth Anderson (Catering Manager, OWPS) and Deborah Donnor (Catering Manager, NVPS).