Peterborough Primary Headteacher Meeting. 02.03.2023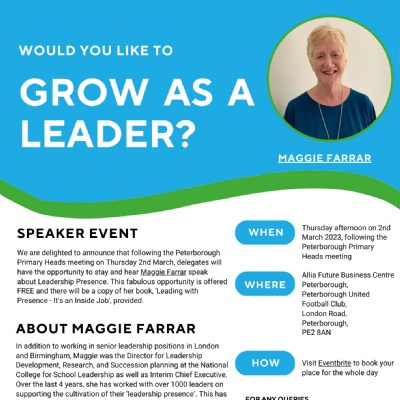 By Stuart Mansell, CEO, OWN Trust
One of the key activities that Headteachers and school leaders need to undertake is networking with colleagues who are in similar positions. Most Headteachers trained as teachers, but are now leading in areas such as finance, HR, IT, and estates as well as teaching and learning. When you are accountable for so many things but with a limited range of experience in them, the role can feel like a very lonely place. Getting together with colleagues enables you to get some informal professional support – as well as moral support!

COVID significantly restricted our ability to do this, but on the 2nd of March, we managed to organise our first full-day Primary Headteacher Meeting, with an accompanying keynote speaker. Attended by over 70 school leaders at the Allia Future Business Centre, the day was quite a mix of key issues and advice.

The event was organised by a combination of Peterborough Local Authority, Peterborough Cluster reps, and OWN Trust. The morning agenda featured an update on issues from Peterborough Service Director, Jonathan Lewis, as well as contributions on Initial Teacher Training provision, Special Educational Needs provision, the Peterborough School Improvement Service, and Behaviour and Inclusion Services. This was very much an information dissemination session but also allowed school leaders to communicate their issues and concerns, both individually and for Peterborough as a whole.

The afternoon session was organised by OWN Trust. Stuart Mansell (OWN Trust CEO) is a member of cluster reps and along with other OWN Leaders has been arranging guest speakers for several years. On this occasion, we had a wonderful session from Maggie Farrar on 'Leading with Presence' (as well as a free copy of her latest book). So frequently we are overwhelmed by the sheer volume of issues we are dealing with, and in a time of 'multi-tasking' and virtual engagement (TEAMS and ZOOM), it is easy to become drawn into doing too many things at once and not doing any of them well as we don't give any of them our full attention. Maggie talked about how we have to take control of our ability to be 'present' in all that we do, whether it's an online meeting, talking to a member of staff or parent, or maybe just making a cup of coffee. How often do we take the time to just be present in what we are doing, and how much difference would it make to our well-being and performance if we made a conscious effort to do just that?