Trustee Board Meeting 10.05.22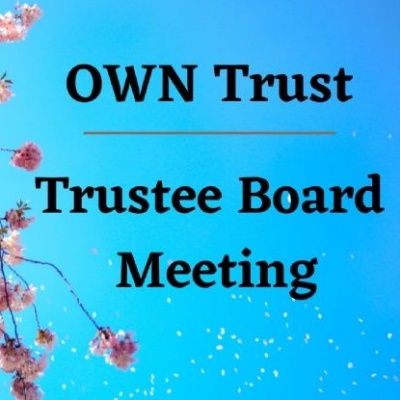 By Mary Foreman, Chair of Trustees, OWN Trust
On Tuesday 10th May 2022, the Trustees of OWN Trust met together with the Trust CEO, Stuart Mansell, Jacki Mitchell, Headteacher of Woodston Primary School, and Simon Eardley, Headteacher of Orton Wistow Primary School. The meeting took place at Woodston Primary School and was part of the annual cycle of regular meetings.

OWN Trustees come from a wide-range of backgrounds but have all been involved in local governing bodies before becoming trustees. For this meeting, we had Trustees travelling many hundreds of miles to attend because they have very busy working lives – yet they still give up even more time to commit to their role within OWN Trust.

The role of a Trustee is different from that of being a school governor, but our core responsibilities remain the same. We delegate day-to-day responsibilities to our local governing bodies, which means that our role as trustees is far more strategic. We oversee strategy and finance across all the schools in the Trust. When we hold our meetings, we receive reports from our local governing bodies as well as reports from the school leaders and our OWN Trust committees.

We had a close look at Safeguarding as well as SEND since our Trust has set up groups that trustees and staff are involved in. Within SEND, Trustees, governors, and SENCOs debated the challenges within our schools and how the local authority does not always have the capacity to support the needs we have in our schools. A focus was also on how we as schools would be responding to the Government SEND Green Paper.

Our strategic safeguarding team ensures our policies and practices are in alignment with each other and implemented by all staff, safeguarding governors, and trustees.

Key discussions at our most recent meeting were centred around compliance – this includes discussions about our buildings and grounds to make sure they comply with statutory and regulatory standards. Since so much of our 'normal' home lives at the moment relate to the rise in living costs, you will certainly understand that we also had similar discussions about rising energy and commodity costs.

We also discussed issues related to staffing – such as new appointments in all our schools. Time was also spent looking at how our 5-year development plan is 'developing' since it is very much an active document and still in its formative stages.

Over the last few weeks, we have experienced an external review of Trust executive leadership – with a forensic analysis of the role of our Trustees and local governing bodies. This is now coming to an end with a final report to Trustees by the leader of this review, Catherine Barratt. The report will help us to improve as a trust in all areas of leadership and governance.